This is part of a series of recipes making lovely raw sweet treats inspired by the delightful Larabars. While they are made from whole foods, they are still a sweet treat and as such should be consumed in moderation! You can find all the posts by clicking here.
To make these raw banana bread bars you need to have dried banana and I don't mean the sugar and sulphur coated ones you find at the supermarkets! I dehydrate my own for this recipe.

If however you do not wish to dehydrate your own, you can always buy them, just be sure to check they don't have other ingredients added to them. You can buy Australian dried whole Cavendish Bananas online here.
There are only three ingredients required to make these super tasty bars and they set in the fridge.

They are a soft bar, so don't expect them to harden up too much.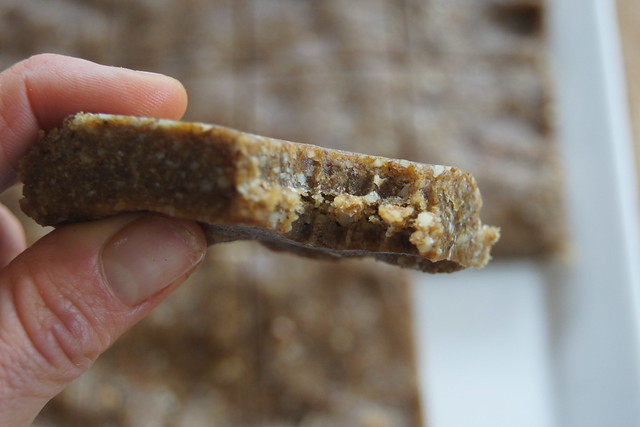 They are completely addictive!

Thankfully they freeze well, so I highly recommend freezing them so you don't eat them all at once!

Raw banana bread bars
Method:
Add dates, banana and almonds to the food processor and blend. Blend for a few minutes, scrape down the sides and blend again. Do this a couple of times until the mixture is soft and sticks together.
Do not over process though, as you will end up mixture that is too runny (almond butter anyone!).
Once the mixture has turned into a dough, press into a lined small-medium baking tray and place in the fridge for a couple of hours. Aim to have the bars no more than 1cm thick.
Once the mixture has set cut with a sharp knife into your desired size. I cut mine into 12 pieces.
I think the bars are best stored in the fridge and you can freeze the bars as well. They don't take long to defrost, you can just take them out half an hour before you want to eat them.
Are you a Larabar fan? If so what's your favourite variety?