I recognise that while far from perfect, I have a great life – a loving family, amazing friends, my health and the opportunity to work from home to help suport my family.
This is something that not every mother has. Throughout this year, I will take time on the blog to highlight opportunities where myself and others can contribute or support to assisting mothers within both the local and broader community.
It will most likely be on a quarterly basis, but feel free to let me know of any events later this year that fit this description and any information you may have on them.
Opportunity Swap

Opportunity Swap is the chosen charity of Planning With Kids. Each year I donate a percentage of income generated from the private ads I run on the blog to this not for profit organisation.
If you are not familiar with Opportunity Australia, I encourage you to check out their website and see more about what they do:
Opportunity International Australia is a non-profit organisation that uses a business approach to solve the problem of poverty. Rather than a hand-out, we provide people living in poverty with a small loan (microfinance) to help them start or grow their own small business. This enables them to earn a regular income so they no longer have to struggle to afford food, clean water, proper shelter or an education for their children.
To coincide with United Nations International Women's Day on 8 March 2012, Opportunity International Australia is inviting people right across Australia to host an 'Opportunity Swap' clothes swap. The idea is to bring together friends and family for a clothes swap anytime during the month of March, asking attendees for a donation. You get to recycle your wardrobe, while at the same time raise money to empower women and their families living in poverty in developing countries who are in desperate need of more support.
Check out the Opportunity Swap website for more details.
Dare To Wear

Another clothing related fundraiser! This one is from a great local organisation called Fitted For Work. Hat tip to a lovely reader Jodie who sent me a link and let me know about this organisation.
Since 2005, Fitted for Work has transformed the lives of 6,500 women. As a not-for-profit organisation and the first of its kind in Australia, our mission is to assist women experiencing disadvantage to get work and keep it. We do this by providing free interview appropriate clothing at our Personal Dressing Services located in Melbourne, Parramatta and Morwell and through our mentoring and transition to work programs.
There are many ways you can assist all year round – donating clothes, volunteering etc, but on March 30 they have their major online fundraising event for the year.
All you need to do is challenge a friend, colleague or family member to dress up to show they're bold enough to Dare to Wear! Or dare yourself and show how bold you are. Then collect sponsorships to make a donation to assist women around the country. Fitted For Work's target is to raise $120,000 to help 1000 women.
Head to the Dare To Wear website for more information.
World's Greatest Shave
Kim Foale is a blogger from Tassie who has incredibly long hair! Kim's mother died of cancer and it is her experience of cancer's destructive impacts upon a family that made her sign up for Worlds Greatest Shave. You can read more about how the hair will be shaved off at a Tasmanian Roller Derby event supporting the World's Greatest Shave here.
The World's Greatest Shave raises funds for the Leukaemia Foundation's. The foundation provides free practical and emotional support to people with blood cancer and their families, as well as investing millions in research.
You can donate directly here.
Sharing experiences on Eating Diorders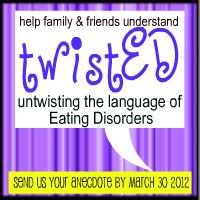 A very gorgeous friend of mine and mother to three amazing girls, has just announced that she has a book contract! Cate will co-author a book along with fellow eating disorder survivor, June Alexander to translate the language of eating disorders.
TwistED, is aimed to be a book that will take the spin out of and untwist eating disorder talk. (ED is a common abbreviation for eating disorders hence the ED at the end!)
And they would love people to share their experiences, so they can help and support others who have an ED or for those who have friends or family members with and ED:
…… June and I need your help. Sure we could fill this book twice over from just our own experiences, but we would rather fill it with YOURS. So think hard people. Think about those times you've said something wrong and have no idea why it was wrong, and email it to us. And think about those times someone has said something to you that you can see wasn't meant to hurt you, and send those to us too.

We want your experiences so that we can UNTWIST the language of Eating Disorders for all the family and friends of those that suffer.
To find out how you can contribute visit Keep Cate Busy for more details.
If you know of any other events that are supporting mothers over the next month or so, please feel free to leave links in the comments.