This is super basic and super easy beef mince curry. I use my homemade curry powder blend which you can find here. My kids like curries pretty mild so this recipe reflects that. You can easily spice it up more by adding more curry powder and even some fresh chillies.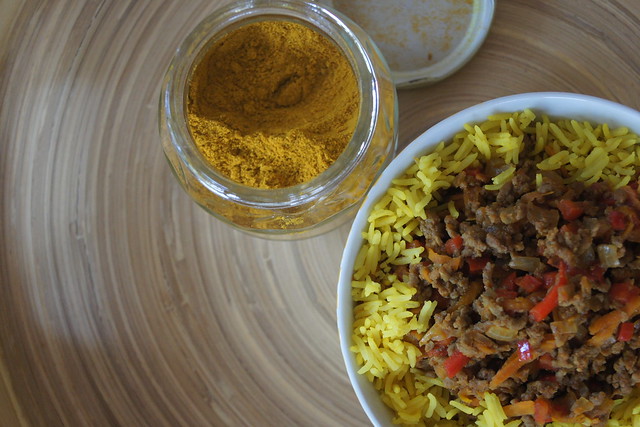 A dash of turmeric in with the rice while it is cooking to create some lovely yellow rice.
Quick and easy beef mince curry
Ingredients:
2 tbsp coconut oil
1 onion
2 garlic cloves
1 tbsp homemade curry powder (this is mild, add more if you like a little more spice)
1kg beef mince
400g can diced tomatoes
2 large carrots
1 large red capsicum
Salt and pepper to taste
Rice to serve
1 tsp turmeric
Method:
Place rice in rice cooker, add the turmeric and cook.
Grate carrot, finely chop onion and capsicum.
Add coconut oil to a large frying pan and heat on medium high. Add onion and cook onion until transparent.
Crush garlic into the pan and add curry powder, cook for a minute or two until fragrant.
Add mince to the pan and cook, breaking it up as it cooks.
Once cooked add carrot, capsicum, tomatoes and salt. Cook for about 5 minutes or until the liquid has evaporated.
Serve on a bed of rice.
Our Family Menu Plan For This Week
I am hosting a Christmas breakfast this year for my two lovely sisters and their families. I do love a theme, so have chosen a Mexican theme for it. As well as Mexican inspired recipes, we will have a piñata, Mexican punch and even nachos! We will then be having lunch with my husband's family and I will be taking a few dishes along. I have a separate menu plan for those recipes, but the ingredients are listed in the shopping list below.
If you are looking for further recipe inspiration, check out my complete list of Family Friendly Recipes.